Our Rule of Life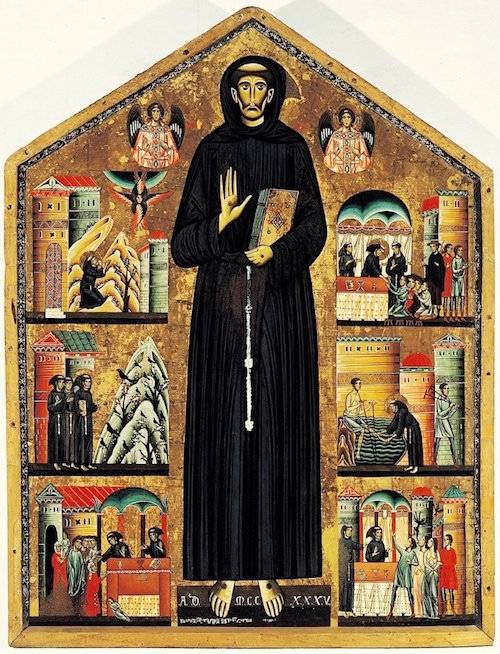 St. Francis often is depicted as being quixotic or a dreamer. If the conversation should turn to delusion, however, the error is with those who have yet to discover the one, firm reality, which is God. In fact, St. Francis was radically practical. "Preach the Gospel at all times!" he said. "If you must, use words." And when confronted with the task of composing a rule of life, he noticed what many had missed: every Christian already has one, and he handed the Gospels to his brothers.

Initially, St. Francis founded one religious order, Order of Friars Minor. As women expressed a desire to share in this joyous movement of radical simplicity and Gospel life, he founded a second order, Poor Clares. Both of these orders were suited to single men or women, who made permanent promises of poverty, chastity, and obedience. Over time, other people wanted to participate in what became known as Franciscan life, and St. Francis founded a Third Order, intended for people who might be married or who are raising children or who have jobs — people who live in the world.
As the Trappist monk, Thomas Merton, OCSO has said, "And He did it all with relationship." The life we seek in community is anchored in holiness and the relationships that come about among the Friends of God as we journey together toward Heaven, sharing scenes from the spiritual life. Our religious house, ecumenical in its scope, universal in its love, means, above all, relationship among its friends and with our Triune God, Whose very nature is relationship. We invite the Friends of God, here in Kohala and all over the world to join us on this great journey, the great adventure of following God. We share our Rule below that we hope will help people complete that journey.
Some living at Na Pua Li'i Hermitage have long practiced the promises of poverty, chastity (abstinence), and obedience. In hopes that others might join us in prayer and apostolic work, our Community invites all adults — men or women, married or single, wealthy or poor, employed or retired — to become Tertiaries of Na Pua Li'i (TNPL). The Tertiary seeks to pare down the claims of the world on one's life, embracing a Franciscan life that leads to a personal freedom that could not otherwise be imagined. All Tertiaries commit together to offer these promises as one Third Order community without distinction among "religious classes." The Tertiary lives this life in his or her own home and particular circumstance.
Franciscan life is rooted in the Three Characteristics, of Humility, Love, and Joy, which animate everything we do but especially in our Three Ways of Service, which are Prayer, Study, and Labor.
Economy and practicality are the hallmarks of Franciscan life. By the time of St. Francis, religious orders were well established. St. Basil the Great, the father of monasticism, lived nearly a thousand years before St. Francis. The world was filled with monastic rules by the thrirteenth century. Yet, St. Francis saw that all of these religious men and women down through all those centuries already had a rule, and so do we, which is the Gospel. Helping Tertiaries, who frequently are married, raise children, and own property, take their initial steps toward Gospel life, we find that adequate and simple rules well-suited to this purpose already exist. For example, the Franciscan Order of the Divine Compassion, a religious order of Tertriaries, has composed a rule, which has served their needs for a quarter-century. Following our common founder Father Francis, we exercise practicality in a spirit of brotherhood in borrowing from this Rule. <12px>

Preface
We are men and women who have dedicated ourselves to God in a special way responding to the Spirit who has called us. In practice, we see in the life of St. Francis the aloha, kokua, malama honua, and pono that speaks to the hearts of those who live in our surrounding community.
The Three Promises of the Third Order
Tertiaries of Na Pua Li'i make three promises — Simplicity, Purity, and Fidelity. At the same time, a pledge is made to the Order to keep the Rule of Life, which give effect to the promises. These promises are made with lifelong intention but are renewed annually. The effect of this is two-fold, allowing the Order to respect the lifelong intention of the promises yet giving the promises effect for a specified period. The Tertiary thus fulfills lifelong dedication provided that he or she renews annually. If anyone fails to renew, or if the Order thinks it right not to accept the renewal of promises for any cause, then the Tertiary would cease to be a member of the Order and would not be burdened by a lifelong obligation.


The Promise of Simplicity

St. Francis chose Lady Poverty as his bride, desiring that all barriers set up by privilege based on wealth be destroyed by love. This is the inspiration for the promise of Simplicity. Tertiaries, though they possess property and earn money to support themselves and their families, show themselves true followers of Christ and St. Francis by their readiness to live simply and to share with others. We accept that they avoid luxury and waste and regard their possessions as being held in trust for God. Personal spending is limited to what is necessary for health and the well being of themselves and of their dependents. We aim to remain free from all attachment to wealth being aware that the world suffers and that poverty is the norm everywhere.


The Promise of Purity
The promise of Purity seeks to respect the integrity and worth of all people. The chief object of the promise of Purity is to emphasize the truth that our bodies are temples of the Holy Spirit. This can only be achieved by a spirit of chastity which sees others as belonging only to God and never as a means of self-fulfillment.


The Promise of Fidelity
God made each human creature in His image to be His fellows and friends. He sent His Son, Jesus Christ, to dwell among these lost friends — to awaken them to their true identity; to call them back to their only real vocation, which is friendship with God; and to redeem them from their brokenness reclaiming the full worth of their bodies and souls. The promise of Fidelity calls us to be witnesses to these truths: to encourage everyone we meet to see their true identity in Jesus of Nazareth, thereby asserting their Heavenly birthright; to affirm that He is the Son of God and the only way to the Father; to affirm His passion, death, and resurrection; to carry His message to all who will hear it; and to do all in our power to hasten the coming of the Kingdom of Heaven. We will be faithful in prayer, work, and financial support of the Order as we seek to follow the saints in bearing witness to Christ in our immediate environment.


Three Characteristics of the Order
Humility


We hold always before us the example of Christ, who emptied himself, taking the form of a servant, and Who, on the night He was betrayed, washed his disciples' feet. Humility confesses that we have nothing and that we are nothing without God and that we depend upon God for everything, understanding that any show of security is ultimately an illusion. St. Bernard of Clairvaux said, "No spiritual house can stand for a moment except on the foundation of humility." It is the first condition of a joyful life within community. The faults that are seen in others are the subject of prayer, not criticism. We take care to cast out the beam from our own eye before offering to remove the speck from another's. Nevertheless, when asked to undertake work of which one feels unworthy or incapable, we do not shrink from it on the grounds of humility, but confidently attempt it through the power that is made perfect in weakness. In imitation of the humility of Christ, we welcome any opportunity for humble service that may come our way, not looking for recognition or praise.



Love


Love is the distinguishing feature of all true disciples of Christ who would themselves be His friends and servants. We, therefore, seek to love all those to whom we are bound by ties of religious brotherhood, of friendship, or of family. As love of other becomes greater, so love of God grows deeper. TPL strives to become a society of love. Members pray for each other, protect each other, and guard against anything that might injure this love. If love is breached, we seek reconciliation with those from whom we are estranged. Our Lord Jesus asked, "For if you love those who love you, what reward have you? ... be perfect as your heavenly Father is perfect" (Mt 5:46-48). Accordingly, we seek love with those with whom we have little natural affinity.

We are a community whose members, though we are varied in race, education, and character, are bound into a living whole through the love that we share in Christ. This unity of all who believe in Him will become, as our Lord intended, a witness to the world of his divine mission.

Joy


To follow Him is life's (and eternal life's) greatest adventure and privilege. "When they saw the star, they rejoiced exceedingly with great joy" (Mt 2:10). It is at all times a journey whose essential nature is joy. We attempt to show in our lives the grace and beauty of divine joy. We remember that we follow the Son of Man, Who came eating and drinking, Who loved the birds and the flowers, Who blessed little children, Who was a friend of tax collectors and sinners, and Who sat at table with rich and poor alike. St. Francis, who deemed the sun to be his brother, the moon his sister, and who sought friendship with the Wolf of Gubbio enshrined this joyfulness for all members of his three orders. We rejoice in the created order, its beauty and miracle of life, calling nothing common or unclean. We countenance the cares of all people, ready to bind up the brokenhearted and to bring joy into the lives of those who sorrow or grieve. We strive to nurture an inner peace and happiness which others may perceive, even if they do not know its source. This joy is a divine gift, coming from union with God in Christ. It is still there even in times of darkness and difficulty, giving cheerful courage in the face of disappointment, and an inward serenity and confidence through sickness and suffering.

The humility, love, and joy, which mark our lives are all God's given graces. We seek to be willing instruments, emptied of self, that we be used for God's purposes.



Three Ways of Service
We desire to be conformed to Christ, Whom we serve in the three ways of Prayer, Study, and Labor. We must find a balanced expression of our service, yet not all members possess the same gifts. Each person's service varies according to his or her abilities and circumstances.



Prayer


In seeking to live in an atmosphere of praise, prayer, and meditation, our aim is to be aware of the presence of God. In this, we may indeed pray without ceasing. Our ever-deepening devotion to the in-dwelling Christ is a source of strength and joy. It is Christ's love that inspires us to service and which strengthens us for sacrifice.

The life of prayer practiced by the ancient Church continues to our life today: the Divine Office; the Holy Mass; prayers of adoration, thanksgiving, and intercession; private devotions; and the necessary prayers we offer in the most private precincts of the confessional.

With other members of TPL, we join in our church each morning and evening to pray the Hours of the Church. Following morning prayer each day, we enter in the sacred mysteries of the Holy Eucharist, the source and center of our lives.




Study


St. Jerome wrote that "Ignorance of the Scripture is ignorance of Christ." We read that "He went out again beside the sea; and all the crowd gathered about him, and he taught them" (Mk 2:13). It is easy to forget, with all the emphasis of recent decades on corporal works of mercy, that Jesus invited the Twelve into a seminary program that never ended. We seek devotional study of Scripture as one of the chief means of attaining that knowledge of God. Tertiaries should be aware of the Bible Study opportunities in their community or of Bible Study on-line, for these are invaluable centers of learning and good fellowship identifying the common bonds we share in our love of God.




Work


The coarse weave of Franciscan spirituality is grounded in hard work. Very often the work of Franciscan hands is in the soil. This is our daily life at the Hermitage: prayer and physical labor, usually in the soil. Without question hard physical labor "keeps you clean" and promotes humility, an awareness of one's physical limits and mortality, a longing for the help of others, a knowledge of one's dependence upon both God and one's neighbors, and the obligation to supply the needs of others who are unable to work.

We all are enjoined "to labor by the sweat of our brow" (Gen 3:19), and experience teaches that this is far from a penalty but rather a lifeline, for those who are able to work, but who do not work, quickly find that they drift into aimlessness and depression. Jesus, our examplar for right living, said, "'For which is the greater, one who sits at table, or one who serves? Is it not the one who sits at table? But I am among you as one who serves'" (Lk 21:27).

We seek to be ever of service to those who have need of us. If we can no longer do physical work, then we must pray for those who work or prepare their meals or encourage them in any way we can.





12px>