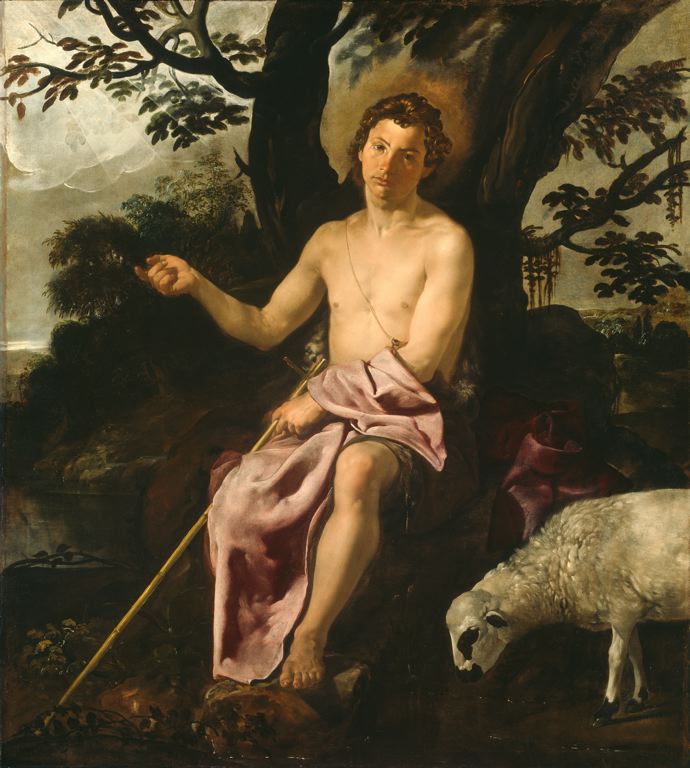 Isaiah 61:1-11
Luke 1:46-54
1 Thessalonians 5:16-24
John 1:6-8, 19-28

Ancient Love



But among you stands One Whom you do not know.

In the Name of the Father and of the Son and of the Holy Ghost. Amen.




A native of Eden has wandered into your midst. Where could he have come from? How did he get here? He is remarkable for his natural character, and the air around him has the fragrance of the world newly made. He wears no garment or artifact of the man-made or the artificial. Neither do we find him eating specialty dishes from a sophisticate's table. He is dressed in the attire of nature. and sustained by a kind of manna made with honey — ενκρισ (Mk 1:6).

That he is God's intimate and companion is only too obvious. Inquiries as to his identity, skip over the rank and file of mere mortals and go immediately to the highest reaches: Are you Isaiah or Elijah or the One-Who-is-coming-into-the-world, the Christ? Without claiming to be anything, he is utterly unlike and far beyond other men who pretend to the title holy. Indeed, his only description of himself is that he is "less than," not "more than." He says, "I am not worthy" (Jn 1:27). We struggle to find Jesus' assessments of any man or woman, but of this man, He says "Truly, I say to you, among those born of women there has risen no one greater than John the Baptist" (Mt 11:11). — not an opinion but rather divine law, declared by God, set down as an axiom, as a foundation stone of the Creation and of salvation history.

We know that in any age, God scans the horizon for those who are after His own heart, who seek to walk in His holy ways. For each of us is born to be free, to pursue whatever life, or fashion of living, we choose. The highest choice, of course, is for God. And those who truly choose for it He trusts and calls to vocations close to Him. These relationships of trust can run deep, for, we recall, that His plan for the restoration of humankind depended upon the concurrence of one, trustworthy fifteen-year-old girl. But in relationships of trust there will be be disappointments. Abraham disappointed (Gen 6:14, Gen 20:2); Noah's family disappointed (Gen 9:22); Moses disappointed (Num 20:11); King Saul disappointed (1 Sam 13:13-14); King David disappointed (2 Sam 11:2-5). Disappointing Patriarchs and Kings of Judea and Israel are too many to recount here. And even perfect Mary did not fully understand her Son's identity (Lk 2:50) and later thought Him insane hoping to confine Him at the family's home (Mk 3:21).

For all of this strain and churn and history of setbacks, a faithful life without blemish is set before us: John the Baptist. Indeed, the whole Creation seems to calm and comes to a stillness near to where Elizabeth's son, John, surveys his flocks. His presence, his wholeness, has turned Judea upside down. And Mark's Gospel, undoubtedly ratified by a consensus opinion, is moved to recall Isaiah's vision in the setting of John the Baptist's ministry:

The Spirit of the Lord God is upon me,
because the Lord has anointed me
to bring good tidings to the afflicted;
he has sent me to bind up the brokenhearted,
to proclaim liberty to the captives,
and the opening of the prison to those who are bound;
to proclaim the year of the Lord's favor,
and the day of vengeance of our God;
to comfort all who mourn.


Remarkably, we are told these good tidings are God's vengeance. His vengeance is to comfort those who mourn, to free those who are imprisoned, to bind up the brokenhearted, and to bear good news to the afflicted. And we recall the very next verse following Jesus' praise of John the Baptist: "the kingdom of heaven has suffered violence, and men of violence take it by force" (Mt 11:12). (We heard these words just the other day at daily Mass.) If vengeance is at issue, then it has to do with God's claim upon nothing less than His own Name and Kingdom. And this notion of reclaiming the Divine Name reveals the kernel of our meditation today. For on deeper reflection, we begin to see what the Kingdom of Heaven looks like in the hands of violent men (even in the Church of our own time). And we begin to ponder what afflicted might mean in this context. For is it not God Who is brokenhearted? Is it not God who mourns? Do we not see Him constantly disappointed and afflicted by the latest reports of the people He has trusted? And is He not a prisoner and a captive? Captivated by His own great love of us? As with any loving parent, His children are never far from His thoughts. He is solicitous and ever watchful.

How well and how quickly He recognizes a heart like His own! How much He relishes the ways and speech and even the walk of a daughter or son in Whom He can take delight! And He is, famously, always seeking those hearts with whom He might enjoy special friendship and communion ... as it was, and might have been, from the beginning in Eden.

Now, it is my duty to pause and remind myself that God the Father is imperturbable, perfect in His serenity with no shade ever of any emotion. To say otherwise is to lapse into the heresy of Sabellianism, or Patripassianism. The God, Whom Moses encounters on Sinai, is the Son of God, the Logos Who created the universe (Jn 1:3). To continue in this passage from St. John the Evangelist, "He was in the world, and the world was made by Him, and the world knew Him not" (Jn 1:10). Or to say it in the poignant words of John the Baptist in our lesson this morning, "But among you stands One Whom you do not know." His words plainly disclose the mood: someone very special, the most special One, is among you today, but you do not recognize Him because your hearts are not right. He is unseen to you. And here we see the defining mark of the parent: invisibility. He created us and nurtured us and washed us and fed us with finest wheat and forgave us again and again and again. And, yes, He wept for us .... though we never paid it any mind. Are these not the marks of a unique kind of love, the never-ending love that belongs to a mother or father alone — the love they have for their children?

Today, on Gaudete Sunday, we take joy that a most faithful son has appeared. In Whom the Lord takes delight, for in Him may be found no flaw, no darkness at all. He has journeyed from the wilderness that somehow has connected to Eden by a hidden passage. Even now he travels the countryside seeking his long-lost brothers and sisters. He brings great and wonderful tidings! Our longtime, wayward wanderings have drawn to an end. And those who are exhausted by it and sick-at-heart may take courage and have new hope. For the One we lost so long ago in a beautiful garden is calling us home. For, it turns out, we never lost His love.



In the Name of the Father and of the Son and of the Holy Spirit. Amen.