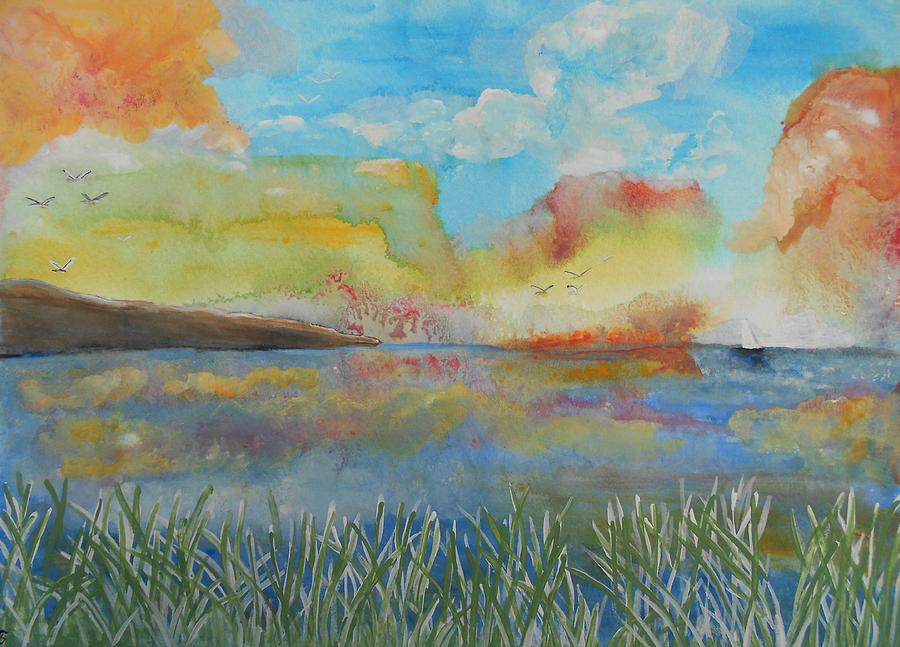 1 Samuel 16:3-7
Psalm 23:1-6
Ephesians 5:8-148
John 9:1-41


He Restoreth My Soul
The Lord is my Shepherd I shall not want.





In the Name of the Father and of the Son and of the Holy Ghost. Amen.




If Lent — its name means long — is a lengthy journey in which we remember Christ's sufferings on earth for us, then we rejoice on Laetare Sunday, for our destination is near. We sit and take stock of the long trek behind us, and the great distance we have traveled. Perhaps we have turned down the volume of the world's noise, so we can hear the "still small voice" of God (1 Kings 19:12). And we realize that we must take time to reflect, to meditate on the stories of our own unfolding lives, for He speaks to us through the themes within these most personal books. Yes, He is mindful of each of us, and He guides us like a shepherd. This is what the Psalmist means when he writes that God numbers the hairs of our head and attends to even the fall of a sparrow. Mysteriously, He attends to each detail of our many-faceted lives and reverences each of our stories as being holy, for each begins in God and ends in God. What clarity he possesses! What orderliness! Truly, He is the only One Who knows the whole truth of our lives, for famously we lie to ourselves.

How clear must be your mind and how quiet must you be to know the state of your own soul? How attentive must you be to receive God's messages and to keep the divine appointments that He makes for us week after week? For life can be a noisy affair, and, of course, many are looking for love in all the wrong places, which produces still more spiritual noise. Yet, our God does not forget us, and He is well practiced in getting our attention. He is a Shepherd. We do not govern the pasture. He does.

A retired rancher once told me that sheep are stubborn and stupid — oblivious to the grave dangers that sometimes surround them. They do not perceive that they need a shepherd. Indeed, they resist shepherding preferring instead to follow each other. I think about this whenever I hear St. Augustine's prayer, "O Lord, put in me a spirit of chastity, but not yet." Do you see? For many, many people this is the paradox of seeking God, He is the Shepherd we all need but do not want. No question, His shepherding is only for safety and benefit, yet the sheep, and their near relatives goats (which surround us at the Hermitage), always resist. They are far more attuned to each other, copying each other's behaviors, following each other's lead. The poor sheepdog! He is tireless as he must constantly intrude himself and impose his will moving the flock in the right direction over and over and over again.

Yet, when things go terribly wrong — a serious injury, a disease moving through the flock, or a birthing process that now means mortal danger for ewe and kid — individual sheep break from the flock. They are alone, and they seek attention and help. During this time of closeness with the shepherd, they bond to him paying no heed to the flock (who are equally indifferent to them). These sheep, somehow understanding the peril they are in, seek only the sovereignty and care of the shepherd. And I have sat by many a hospital bed to hear gruff, worldly men weep when grave illness has made their hearts wondrously tender. Yes, God truly has made us for Himself, and none of us are able to stray from Him, not finally.

This entire drama is captured in a brief poem, which appears as No. 23 in the Psalter as rendered in the 1611 translation of the Bible, called "the noblest monument in the English language." (It is worth noting that its near relative, the Revised Standard Version, is used by Benedict XVI for all his publications in English.)

"The Lord is my shepherd I shall not want." You see, He provides me with my every need. In Him I lack for nothing. He is my guarantor of safety and security. Yet, often, I do not want Him. I prefer to follow the flock and to mimic their habits and ways, for they have come to be my god, and I seek only their approval. As for the Shepherd, I pay Him no heed and even keep Him distant calling Him "shepherd" — the 3rd-person construction rather than speaking to Him directly.

From time to time, He prods me when I do not want to be prodded, and He pushes me off to places I do not want to go:

He maketh me to lie down in green pastures.
He leadeth me beside still waters.
He leadeth me in the paths of righteousness for His Name's sake.

And then, suddenly, darkness encloses around me. I am beset on all sides by danger. I have entered the valley of the shadow of death, and I perceive He is my only hope. No longer do I address Him in the distancing language of the 3rd-person but now in the intimacy of the 2nd-person, even "Thou." And suddenly the words of the poem become more tender, even lyrically beautiful:

I will fear no evil, for Thou art with me.
Thy rod and Thy staff they comfort me.

No longer is the Shepherd's staff a prod but a comfort. The pasture was always there, and so were the still waters. Everyday I saw them, but now their beauty and spiritual peace speak to me, for I see all things now through a heart made tender.

These lines are moving in their depiction of emotional closeness with God, but we move beyond them into another spiritual dimension which is otherworldly:

Thou preparest a table before me in the presence of mine enemies;
Thou anointest my head with oil;
My cup runneth over.

Have my enemies been gathered from every era of my life? How did they get here? What is this table set before me? And now my head is to be anointed? That sacred rite is reserved only for a king at coronation or a bishop at consecration. Where am I? Is this Heaven? Or have I entered a visionary mode on earth standing somehow before God and His Kingdom? Perhaps the correct disposition of our soul in the face of such a question is, "Does it matter? What would be the difference?"

Saint Catherine of Siena wrote that, "It is nothing but Heaven all the way to Heaven." The point is that Heaven occurs within us when our soul's reach a certain blessed state. From here the entrance into Heaven is barely discernible, for we have become Heaven in some sense. Heaven has something that has happened .... within us.

The drama depicted in the 1611 translation of Psalm 23 is a lengthy journey said in so few words. We begin in a kind of teenage insolence directed to the holy Parent who loves and guides us, and Whom we heed reluctantly. Yet is He faithful, knowing that hard trials lie just ahead for us. Finally, we enter pasture and waters that seamlessly verge into Heaven itself.

As we learn in our reading from 1 Samuel this morning, God shepherds us down paths that we do not understand, that we cannot see with our mortal eyes. Even the great prophet Samuel is nonplussed as God passes over Jesse's several impressive and imposing sons, for God's heart sees what ours cannot. We are born blind from birth, as our Gospel lesson this morning suggests. And in our blindness, we become lost as the Pharisees do, falling into cruel philosophies, divided, plotting against each other in stubborn stupidity, and miss the only thing that matters, which is the near presence and identity of God. Yet are we saved from ourselves. We have a Shepherd we shall not want who guides us, leads us, comforts us so that we may dwell with Him in His house forever.

In the Name of the Father and the Son and of the Holy Spirit. Amen.