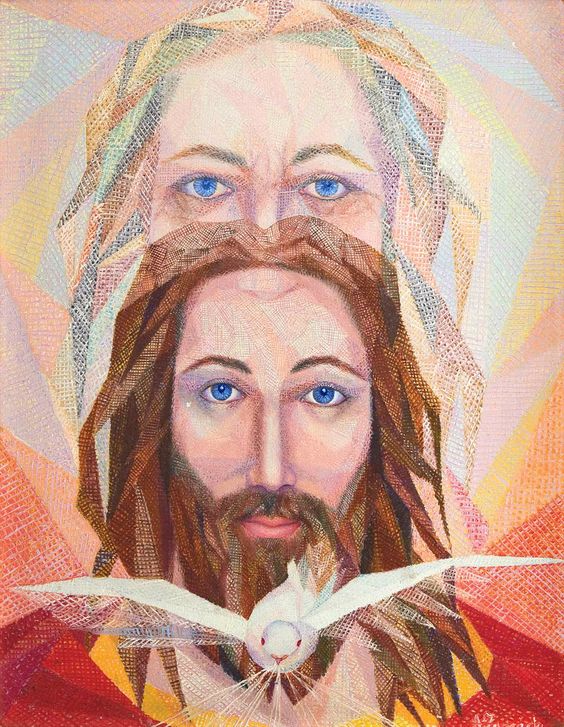 Isaiah 49:14-15
Psalm 62:2-9
1 Corinthians 4:1-5
Matthew 6:24-34


Entirely Thine
Tomorrow will be anxious for itself.





In the Name of the Father and of the Son and of the Holy Ghost. Amen.





We begin the third week of preparation for our journey toward a tomb. We, and everyone we know, must walk this great pilgrimage whether we make preparation or not. It is walked by all. Yet, it is a most personal journey, and fitting that we should hear tender words from our God, as between a mother and her son:

"The Lord has forsaken me,
my Lord has forgotten me."

we say. And God replies,


"Can a woman forget her sucking child,
that she should have no compassion on the son of her womb?
Even these may forget,
yet, I will not forget you."

So much is said in so few words. First, it is suggested that our relationship to God is like, but goes beyond, a mother and her newborn child. In some mysterious sense God is our Father and Mother. The Holy Trinity, of course, contains a human element: the Son, Who is fully God and fully human. Surely, humans are made in God's image, not merely men. Did not Jesus say that He yearned to gather His people under His protective wing like a mother hen? And we recall that the union of man and woman together form the sacred image of God; it is the totality of human personhood that shimmers most fully with divine light.

Next, we learn that our relationship with God is an intimate one. We suffer within our most vulnerable self when we sense that we have displeased God, or have even lost His favor. Then, He comes to us, alone, in that most private place, to reassure us that He could never forget us. Who does not know that the tenderest moments of our love with God are private and personal?

So often we misquote the Gospel according to St. Matthew 18:20. The words here are not "...where two or more are gathered..." but "where two or three are gathered in my Name, there I am in the midst of them." Two people alone may reach into each other's souls sharing the secrets of the heart. There might even be a place for three to share among true friends. But beyond three, the human dynamics change. We have a group, and such delicate matters do not belong to a group. Henry David Thoreau wrote, "I had three chairs in my house — one for solitude, two for friendship, three for society." Real relationship occurs between two, perhaps three, and there God appears in that place of deepest love.

Every human knows this. It is deeply etched within us as creatures, and is the very nature of our Creator. The Holy Spirit proceeds from the love shared between the Father and the Son. In that sense, the Holy Trinity is pure relationship. The Trappist monk Thomas Merton, commenting on God's transformation of the world in Jesus Christ, wrote, "And He did it all with relationship."

God is relationship. Each of us knows this from our birth, for we are God's own son or daughter. We are in a large family, to be sure. Yet, we come to learn what all large families know. No matter how many children there are, each is special and infinitely valued and prized and loved in the eyes of Mother and Father. Like a child, we depend upon God entirely; He is the Father Who made us and the Mother Who suckled us and the Parent Who was watches with pride as we strive in the world in the family's Name and bearing the family resemblance.

In our lesson from St. Paul this morning, we learn that God alone is able see us we truly are. Society is off to one side and really doesn't matter: "It is a very small thing that I should be judged by you or by any human court," the Apostle writes. From God alone will "every man receive his commendation." It is not up to the neighbors to decide what shall be our portion. In the end, they will have no say. In our Gospel lesson this morning, Jesus tells us, "do not be anxious about your life .... Your Heavenly Father knows all your needs."

Let us pause here, for in this place we stand at the center of Gospel life. It is a famous place and one of St. Francis' favorite passages. Let weigh each word carefully:

"... do not be anxious about your life, what you shall eat or what you shall drink,
nor about your body, what you shall put on. Is not life more than food, and the
body more than clothing? Look at the birds of the air; they neither sow nor reap
nor gather into barns, and yet your heavenly Father feeds them. Are you not of
more value than they? Consider the lilies of the field, how they grow; they neither
toil nor spin; yet I tell you, even Solomon in all his glory was not arrayed like
one of these .... Therefore, do not be anxious saying, 'What shall we eat?' or 'What
shall we drink?' or 'What shall we wear?'"


Jesus says, we shall be arrayed like flowers, a delicate cloth to be sure! And we shall eat seeds and berries like the birds of the air; that is, just enough to sustain our lives, but no more. And we shall drink from rain water fresh from the heavens, which we shall have to conserve with great care. What all these things share in common is that they must be constantly renewed and replenished, even on a daily basis. We countenance God to be Providence, the One alone Who can provide. And we must depend upon Him entirely, never hedging out bets or storing food in barns or water in cisterns.

The scene Jesus sets here is exactly like the one Father God set in the wilderness beyond the Red Sea. Manna appeared like the morning dew but could not be stored, for it was highly perishable. Water might flow from solid rock, but only according to His word. Jesus reminds us that our lives are to be a complete reliance on God, ... which few dare venture, we might add. Yet, St. Francis and the Franciscan Apostles did venture, which became the world's greatest and most inspiring adventure following the life of Christ. And its purpose is the same: to belong entirely to God, to be wholly dependent upon Him. This is the Gospel life. Jesus Himself had nowhere to lay His head, and bid His Apostles do the same.

The acceptance of this life — whether in the wilderness being led by a pillar of fire or following Jesus in intentional poverty — turns out to be pivotal in our relationship with God. The people Israel who refused it were not permitted entrance in to the Land of Promise, and Jesus preaches that the ones who store up riches cannot enter the Kingdom of Heaven.

During His own lifetime, the miracle of the five loaves and two fishes was a memorial of God the Father feeding the people Israel with Manna from Heaven. And when the people He fed still did not get it, did not see Who He was or what He was doing, nor even His Disciples ... We recall Him asking them, "Do you not yet perceive? Do you not remember the five loaves of the five thousand, and how many baskets you gathered?" (Mt 16:9). It was then that the narrative suddenly changes, and Jesus sets His face toward Jerusalem and to His passion.

As the people Israel then or later with the first-century Judeans, we today look at the life of prayer and poverty as being thin gruel, indeed. Is this the abundant life that God intends for us? I have heard radio preachers say that they don't believe in dinghy theology; their theology is cabin cruiser theology! Yet, we see over and over and over again in the great story of our faith that God is not particularly interested in our worldly prosperity. Our world is flimsy, temporary, and was never intended for our happiness in the first place. Yes, it is beautiful, and our relationships here with each other can be filled with beauty, but these are intended to be glimpses of the Kingdom of Heaven; these are the vestiges of Paradise that inspire us to keep looking higher, .... for Him. They are reminders of what our lives could be ... and will be should we choose to follow Him. No, our world is not the thing. And God sent His only Son to bid us look beyond our world. As He said to St. Martha complaining about her worldly cares, only one thing is needful, and that one thing is Him.

As He revealed to Sr. Maria Faustyna Kowalska, OLM in 1931, we are to trust in Him and only in Him. He is our true Father-Mother-brother as Jesus reminds His followers: the ones who belong entirely to God are "my mother and my brothers and my sisters." Our relationship with Him represents the totality of our lives. And with Him alone is goodness and life. As another Polish saint taught us, "Totus Tuus" — Entirely thine. Or we might say, as I have heard our Protestant brothers and sisters say, "My utmost for His highest."

Yes, we journey toward a tomb. At moments we may fear that God has forgotten us, or that He no longer loves us as He did when we were children. Yet, He is always with us. And we may be sure that He will be there in the end, seeing and understanding and remembering every step of our journey as no one else could and no one less will.

In the Name of the Father and of the Son and of the Holy Spirit. Amen.