The Hermitage Farm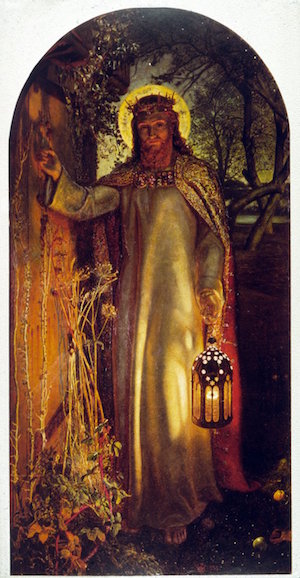 While dirt farming might not immediately spring to mind as a category of spiritual pursuit, we call our minds back to the Lord Jesus, Who continually drew on agricultural metaphors for the spiritual life — the mustard seed that moves a mountain; the Enemy who plants tares among the wheat; the seed that falls on thorny ground, on rocky ground, or on good soil; the vineyard; the seed growing secretly; the threshing floor; the harvest; ....

Beholding William Holman Hunt's painting "The Light of the World," our eyes are fastened upon the light shining from the King's lantern and then upon His kindly visage. But then we look more closely to see that He stands in the midst of a ruined garden and that he knocks upon the door of a tomb. So much is called to mind here. Yes, the Lord knocks at the door of our hearts, but until we let Him in, we live in a never-ending spiritual death. Yes, our lives had begun in garden of innocent youth, but so many of us have found that the wrong decisions of the past have brought weeds into the garden and in places it is strewn with rotting fruit. The Lord knocks, but He is not knocking from within. He is outside, standing in the debris of our lives, where the soul struggles to breathe.
This painting, cherished by Anglo-Catholics and hanging in a side chapel of Keble Chapel (Keble College, Oxford), is a touchstone of Anglo-Catholic spirituality and the title of Bishop Charles Gore seminal text, Lux Mundi. Two members of our Community, a Roman Catholic Franciscan sister and an Anglo-Catholic Franciscan priest who met in Haiti, discovered that both of them had carried this painting (postcard size) all over the world with them for decades. Who does not see the connection between a well-ordered garden and a life that is cleared of debris. Tilling the soil, pruning, freeing trees of disease and rot and returning them to health, all of this is a form of prayer and a working in the stuff of life. We practice this orderliness in several broad areas:


We give thanks that the Lord has prospered our agricultural ministry and organic farming to the point that we have had to establish a separate 501(c)(3) public benefit organization to accommodate its scale: Franciscan Hermitage Ministries.