Church of St. Mary and the Angels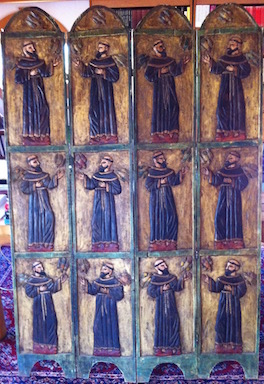 Na Pua Li'i Hermitage is located in Kapa'au, a Hawai'ian word which means holy altar, — the raised area within the heiau, or sacred temple, on which the sacred images and offerings were placed in ancient Hawai'i. Our region, North Kohala, itself is considered to be a most holy region of the Hawai'ian Islands. We are humbled to rear our Altar to God on this sacred ground. This is also where St. Damian raised his first Altars prior to experiencing his call to the lepers of Moloka'i. We are a church of the Diocese of Quincy of the worldwide Anglican Communion — an organization of 90 million souls and the third largest expression of Christianity on earth. The Church of St. Mary and the Angels is in the care of a former Benedictine abbot and leader of ecumenical Catholic worship and life, the Rt. Rev'd J. Alberto Morales, OSB. Our Bishop warmly welcomes everyone to our Church.

Our church's name respects our own Franciscan traditions recalling the name of the church that was most dear to Francis and his apostles. But it is much more to us than remembrance or memorial. For these holy ones are ever before us in our daily lives. The holy angels surround us and keep us in all our ways. And St. Mary continues to beckon us to holy life with her song of humility, simplicity, faithfulness, uncomplaining sacrifice, prayerfulness, joy, dedication, and most important selfless love. As her life was unadorned by material possessions, social position, luxury, power, or money, she knows how easy it is for us to join her, for we need nothing to qualify, only hearts that aspire to be like hers, ready to embrace simplicity, purity, and love. This is true beauty — unpolluted, good, unfading. We reflect with Hawai'ian words:
Ku`u pua ku`u pua mae`ole
Nou mau ko`u li`a `ana.

He nohea `oe i ku`u maka la
A no na kau a kau.

Nani he u`i ka wahine la
A he lei wehi no na kupuna.

Ku`u pua ku`u pua mae`ole
Nou ku`u mele nei.
My darling, my never-fading flower,
You are my constant desire.

Your loveliness I will always behold
All of the days.

You are a beautiful woman
Treasured by your grandparents.

My darling, my never-fading flower,
This song is for you.
As Mary never stands by herself but always points to her Son, we think of fairest Lord Jesus — never-fading, our constant desire, a loveliness we would behold all our days, and eternally treasured by His Father. In the sixth century,
St. Gregory the Great sent his missionaries westward enjoining them to respect what the Holy Spirit has done in the places where they would visit or live. In Hawai'ian culture, "Pua Mae`ole," the unfading blossom, signifies purity and beauty that is beyond this world. Our church seeks to commune each morning and evening with the unfading angels and the holy ones who surround us, even as we approach Lord Jesus to be with Him, ever the deepest love and meaning of our lives. We invite all people in the community to think of our church as being their spiritual home, too.
During our construction period, our community prays the major Hours and celebrates daily Mass within the plantation enclosure we care for as part of our daily ministry. Our church is the focal point of our community as the Holy Mass is the source and center of our lives. Accordingly it will be the first room we will build in our main house, and we will devote ourselves to furnishing it to be "meet and right," that all who pray here might worship the Lord in the beauty of holiness. Pictured above is the reredos that will appear behind and over our Altar.
Please join us in daily workship or share in a portion of our worship by meditating on the word through our daily spiritual reflections.